Current and savings accounts
SuperCore®, our cloud-native banking platform, powers some of the fastest growing digital banks in the world.
It gives you everything you need to build a stand-out retail, SME, or corporate banking proposition, launch it quickly, and scale to millions of customers.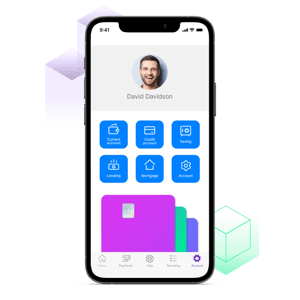 Next-generation current and savings accounts that put your customers in control
Create a current account that's packed with benefits
Reward customers with cashback offers, boost their savings with automated round-ups, offer dynamic rewards, and much more.

Whatever features matter to your customers, adding them to your offering is fast and simple.
Generate powerful spending insights powered by GraphQL
Building personal financial management tools that pull on complex transaction data is fast and seamless with our API-first architecture.
Joined-up customer servicing powered by Salesforce
Resolve every customer query faster with our Salesforce module. It gives you end-to-end customer servicing out of the box and a 360° view of every customer.
Give your customers next-generation digital bank accounts with all the fast and flexible features of a challenger bank.
Onboard instantly with numberless debit cards
Make virtual cards instantly available on account creation and reduce fraud by offering numberless debit cards.
Round-ups that supercharge savings
Help customers automate their savings with round-ups, which sweep the spare change from transactions into virtual pots.
Help customers understand their finances
Offer customers budgeting, savings targets, round-ups, and compliant statements out of the box. Build bespoke tools that help customers understand their spending better with our financial tools API.
Offer dynamic rewards
Configure rewards based on customer behavior – for example, give a cash reward for keeping balances above a certain threshold for an entire month.
Automatically move funds to cover payments
Enable customers to utilize funds from multiple accounts or pots when making card payments.
If their balance is too low to complete a transaction, it won't fail as funds available elsewhere will be used to complete the purchase.
See SuperCore in action
Learn how you can build next-gen current and savings accounts with 10x