The talent war is real. Banks might find their best workers start to look elsewhere if digital transformation programs stall.
Banks know that digital transformation is vital to customer retention and acquisition. But the role it plays in talent retention is less clear. A key finding of our research report on the transformation progress was the link between transformation and staff retention.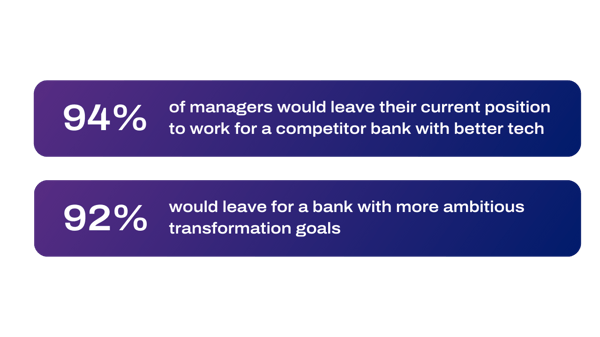 Over 90 percent of product managers would move to a competitor with better tech or more ambitious transformation plans. That's a significant threat to the workforce.
"The essence of product management and design is to empower people and improve their lives," says George Broom, Product Manager at 10x. "When you're in an organization where the tools aren't in place to do that, it's usual to look at those where they are with envy."
Digital transformation troubles
The banks transforming slowly haven't buried their heads in the sand. They know they need to change, but it's not easy or quick. Only 32% of banks feel they can respond to market needs fast enough.
"If you're in an institution that's struggling with transformation, then product managers can be less likely to innovate because they are heavily constrained by the slow speed and high cost of change," says George. "In that situation, you can also spend lots of time dealing with issues that come from aging tech stacks just to maintain the status quo."
Enjoying the blog? Download our e-book, Supercharging the product lifecycle, for more.
The shiny side of being a product manager is understanding your customers and building a product that will be really valuable in their lives. Going through that process and ending up with a successful product is a great feeling.
George Broom Product Manager at 10x
Helping product teams to do their best work
It's little wonder that in those circumstances, talented product staff start to think about moving to a rival bank. Plenty of studies show that an important part of job satisfaction for today's workers is a sense of purpose. People want to feel invested in their work, and legacy tech can stand in the way.
"The shiny side of being a product manager is understanding your customers and building a product that will be really valuable in their lives," says George. "Going through that process and ending up with a successful product is a great feeling."
The banks that enable their product managers to do this – and delighting their customers as a result – are often challengers.
George says that even the smallest UX details can make the biggest difference and can turn skeptics into advocates. "Monzo's payment notifications come through to your phone almost instantly. It's easy to overlook this small bit of customer experience, but it's clearly something they feel is important."
These little touches help reassure customers that they are in control and their money is safe. But this attention to detail requires product and technology departments to be well aligned, which isn't always the case: "In many banks, product and tech are very separate. They don't work together day-to-day as part of the same team, with the same vision and goals," George explains.
A benefit of product and tech working closely together is the intrinsic knowledge of what's getting built. Ideas can get discussed, discounted, or validated quickly. This takes much longer, where the departments are more separate. With legacy tech stacks, the side effects of change must also be considered and understood.
"When tech gets a product proposal, they won't know right away if it's possible. Everything is old and intertangled, so making a simple change isn't simple at all."
How can banks innovate faster?
In summary, it's expensive for banks to build new products and functionality, it takes a long time, and creativity is constrained.
To overcome this, banks must migrate from legacy tech to a modern, cloud-native core banking platform like SuperCore®.
"The 10x platform essentially removes all of the constraints. You can do things quickly. You can do things at a low cost. And you can innovate to your heart's content." Explains George.
An example of this is a simple product update. We found that it's more complex for banks to update interest rates than it should be, requiring too much time and too many people. But with SuperCore, a product manager can update a rate in minutes before pushing the change through a governance workflow. The revised rate can go live on the same day.
With the right tools, it becomes much easier for product teams to positively impact the everyday lives of customers, which in turn could help staff retention.
With less time, energy, and budget going into the basics, banks can focus their attention wherever they please: from improving the digital experience to developing competitive products.
Download the product lifecycle e-book
How banks can supercharge their product lifecycle looks at the challenges banks face, exploring ways to make the product lifecycle faster, more efficient, and better for customers. It explores:
Why traditional product lines within banks can hamper innovation
How to bring ideas to life faster with no-code product creation
How real-time data enables faster decision-making and better launches
How to turn the product lifecycle into a competitive advantage.