10x is delighted to have won the award for "Best Next-Generation Banking Platform (UK)" in the Fintech Awards 2021, with our platform SuperCoreTM.
Read more about why 10x was awarded the winner in this category in the accompanying awards magazine article:
A new era of banking - 10x wins Best Next-Generation Banking Platform (UK)
Hosted by Wealth & Finance International, the FinTech Awards 2021 recognised and showcased individuals, companies and enterprises across our hugely diverse global FinTech industry - highlighting those who seek to transform the way finances are managed.
As part of the judging criteria, the focus was on those that demonstrated expertise in their given area, dedication to client fulfilment, noteworthy performance or commitment to innovation.
This is an opportunity to take a moment and celebrate the expertise and achievements of our 500+ strong team. The product and engineering team has deep technical expertise and many of the 10x leadership team have first-hand experience leading global, large-scale banks. Together this helps us keep the clients front of mind as we develop the platform.
Dedication to client fulfilment is something that is particularly important to us. Every touch point with our clients means something. It's an opportunity to improve on performance, to develop the platform as the industry needs, and to remain aligned to the bank's strategic vision. We strive to deliver faster than clients anticipate, better than they ask for and more cost-effectively than they budgeted.
Awards such as these are a reflection of the vision that Antony Jenkins, Founder, Chair & CEO of 10x, laid out five years ago. To build a completely new type of banking architecture that would drive transformational change for clients, for their customers and in turn, for society. This is a vision whole-heartedly shared with the clients that work with us. They drive forwards with a mission to embrace new, innovative business models and we're thrilled to be a part of their journey.
This award celebrates the passions that drive the product, engineering, client and support teams around them, to make the 10x vision a reality. This award is for every 10xer so thank you and a huge congratulations.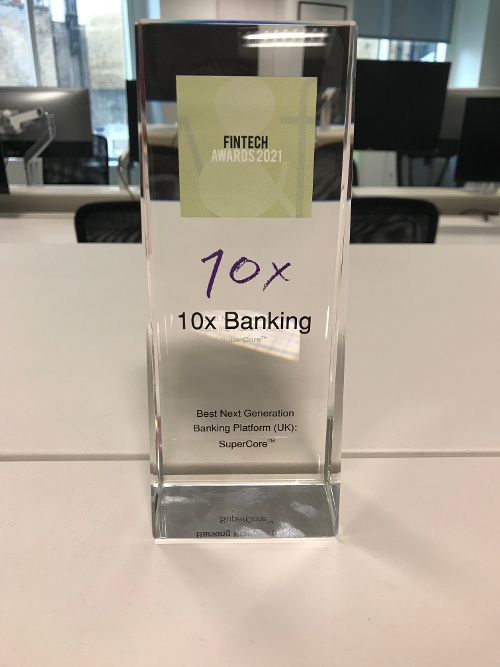 10x wins Best Next-Generation Banking Platform (UK)