On a Wednesday morning in Holborn, a team of 10xers gathered around as Antony Jenkins, CEO and Founder of 10x, officially opened our new office. Of course, the ribbon he cut was purple.
It's a real milestone for the company. The first office we've designed from the ground up, it's our first proper home, built around how 10x works.
"Hybrid working is here to stay," Antony explained a couple of days before the big reveal. "The way we work as a company has changed, and we're determined to make it an advantage."
The new space at 33 Holborn is built for collaboration, which is crucial for a company on a mission to make banking 10x better. "Even though we're a technology company, human connection is really important to us." said Antony.

Built for the future of work
"The pandemic really exposed what mattered to people. Yes, they like to come to work and be with their colleagues. But given a choice, there are times when they'd prefer to be with their family and friends."
Antony believes that some work is done better at home, and some is done better in person, with the new space built to support the latter. "Problem-solving, brainstorming, board meetings, and projects can be done much better face-to-face. Plus, if we can save people time and money on commuting, that's good for them and good for us."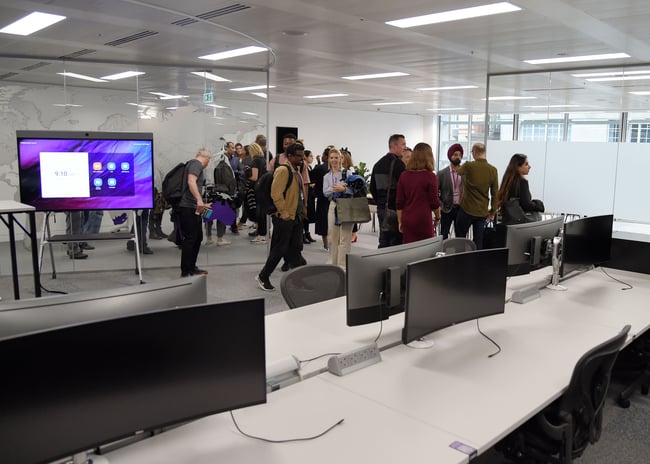 "But the idea that you know, everyone's at home being lazy and watching daytime TV – that's just rubbish. People can be lazy in an office – that's weak leadership. It has nothing to do with hybrid working."
The winning combo, Antony adds, is an attractive flexible working policy, plus a comfortable office that people can use to meet up when needed.
Our journey so far
From small, serviced offices in 2016 for a handful of staff through to our new home in Holborn, Antony explained how things have changed, and the team has grown, rapidly at 10x: "I remember in 2017 when we took a 60-seater office in Kings Cross. I was standing in this empty office thinking, 'we're never going to fill this up!'"
Today, there are over 500 of us. And not just in London either. We're much more geographically dispersed thanks to flexible working and our growth in APAC, with a team based out of Sydney, Australia, to support clients in the region.
Looking ahead to 2023
"You can talk a great game about how you're transforming banking," explains Antony, "but until somebody is using the tech, it's just words."
"We're nearly a year on from the JP Morgan launch. I'm very happy with how the platform continues to perform. At the same time, we've continued to build out our capability. By the middle of 2023, we'll have current accounts, savings, lending, credit cards, and transaction banking delivered from the 10x platform. We'll serve everyone – from individuals to large corporates – effectively."
"We're also getting very close to securing some new clients, which is extremely exciting. Ending the year in our new office, which we've made our own, reflects our maturity. All of this will keep us aligned with our North Star, to serve a billion users on the platform."
To see the technology that's transforming banking, get in touch with our team today.
For more on life at 10x, view our careers page.